Bond girl Caterina Murino talks about life, Casino Royale, and her future
Every man dreams of it, but only some men -- a select and fortuitous few -- get to experience it - reports
AOL Moviefone
. I am, of course, talking about bedding a Bond girl. And I am, of course, not one of those guys. While I haven't quite (read: not even remotely) joined the ranks of new James Bond Daniel Craig and earned that 007 badge of honor, I have had the pleasure of chatting with the beautiful Italian actress Caterina Murino, who plays Bond girl Solange Dimitrios in the upcoming 'Casino Royale' (Nov. 17). 'Casino' marks the first English-speaking part for the tri-lingual Sardinian (she's fluent in English, French and her native Italian), but you wouldn't know it to speak to her. Below she reveals what it takes to be a Bond girl (it is more than a beautiful face, curvaceous figure and strong tolerance for Bond's notorious double entendres -- though those attributes are helpful), how to get sweet revenge on a mean hubby and why 'Casino Royale' will rock your world.
On How Being a Bond Girl Changed Her Life
Being an actress, much less a world-renowned Bond girl, was definitely not something to which Murino aspired growing up. In fact, the Italian beauty was training to be a doctor until she landed her first roles in film and TV is 2002. But nothing prepared her for the hoopla that surrounds a Bond film. "Now wherever I go I have a red carpet for everything. It's strange because I was very happy just as an actress to make the movie," she says. "And now just going around the world, making the press conference and everything is so strange. It changes your life. And I am very glad to be a Bond girl ... for a little bit."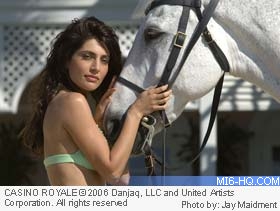 On Her 'Casino Royale' Character, Solange Dimitrios
Poor Solange! She doesn't end up marrying James Bond (shocker!). Nor does she -- in the fashion of so many Bond girls -- go for a roll in the hay with 007 and then try to off him, like a giant (hot) praying mantis devouring her male counterpart when he is of no more use to her. "Solange, she is not the typical Bond girl because she doesn't try to kill James Bond. Also, I have only one stunt scene ... I gallop with my horse on the beach with a green bikini. Typical Bond," Murino laughs. As for her relationship with a certain secret agent, Murino says, "Solange is married to a very bad man, and one night he leaves me alone like an idiot in the casino and I meet James Bond and he asks me to get a drink or something with him. And Solange takes a little revenge on her husband. Unfortunately, not all women who are treated so bad can have the same revenge as Solange."
On Her Favorite Part of Filming 'Casino'
The answer to this question came without hesitation and with a definite smile in her voice. "Um, sharing the night with James Bond," Murino sheepisly chuckles. "And I loved also the morning when we shot the galloping scene on the beach. It was nice." Lucky stallion(s).
On Riding the Horse (No Pun Intended)
Before filming began on 'Casino,' Murino prepared for her much ballyhooed galloping scene the old-fashioned way: by simply riding horses. But when she fell from the steed, she was forced to buck up and get back in the saddle to film the actual sequence. "It was very tough for me to deal with my fear and come back to ride horse. I say, 'I'm going to ride,' and I rode. And everything you see on the screen, that's me. I didn't use a stunt double."
On Who's Sexier, Daniel Craig or Eva Green
Admittedly, I went fishing for a racy answer when I asked who Murino found sexier: Daniel Craig (Bond) or the other 'Casino Royale' Bond girl, Eva Green (Vesper Lynd). But Caterina played her cards close to the vest with her answer: "I think the women will love more Daniel Craig, and the men will love definitely more Eva Green." Well played, Caterina. Well played.
On Why Daniel Craig Is the Most Badass Bond Yet
This may be tough for Sean Connery purists to bear, but Murino insists that each actor who plays James Bond brings something unique and special to the role. "What I love is the way Daniel Craig plays the role. It's more realistic, more tough, more romantic. He looks like more of a human being ... I love the idea that for the first time you understand that James Bond is not the good guy. It's more in the human nature to have the good and the bad inside of us. Because how can you say that someone who kills is good?" Can't argue with that.
On What's Next
After 'Casino,' Murino will take a break from English-language blockbusters for a while -- but that doesn't mean she's going to hang out on the beach and ride horses in a green bikini. She is currently shooting an Italian film. "And between March and July, I'm going to shoot two French movies," she says. When I tell her it sounds like she's going to be busy she replies, "Yes." And after a pause adds, "Thank God." For you, Caterina? Any day.
Discuss this news here...