Last few days to vote on Young Bond 3 book title
There are only a few days left to register your
vote for the title of the third Young Bond novel by author Charlie Higson
.
The voting closes at midnight on the 3rd November. To cast your vote, and become part of James Bond history, visit www.youngbond.com. There are three possible titles, chosen by the author, Charlie Higson:
Double or Die
N.E.M.E.S.I.S.
The Deadlock Cipher
To help you decide, there is an exclusive extract from Young Bond 3 on the Young Bond website and a note from Charlie Higson about the three titles he has picked. The title will be kept a closely guarded secret until publication and revealed at an as yet undisclosed, central London location on the 3rd January 2007.
All voters have a chance to win one of a limited number of tickets to the central London event and discover, before anyone else, the title of Young Bond 3.
You can also cast your vote by text:
DOUBLE OR DIE text DOUBLE to 60022
N.E.M.E.S.I.S text ENEMY to 60022
THE DEADLOCK CIPHER text LOCK to 60022
Texts cost your normal rate. For full terms and conditions see www.youngbond.com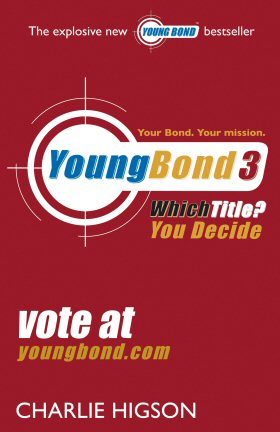 Click here for a Young Bond 3 book preview on MI6
.
Discuss this news here...