Casino Royale theme `You Know My Name` not to be released as single
According to a report on today's
BBC Breakfast News
, the new title song for the upcoming James Bond film will NOT be released as a single.
The song "You Know My Name", performed by Chris Cornell, will be the first Bond title track for many years never to be released in the charts.
The report was from a UK perspective, so there may still be a release elsewhere, or even online at iTunes.
The track is also missing from the Casino Royale official soundtrack, and with no official reason forthcoming, fans are speculating it is due to Cornell being tied to record label Interscope, whereas the soundtrack is being released under Sony's BMG label.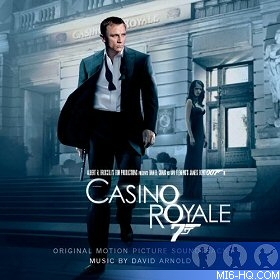 Order Soundtrack CD (Amazon USA)
Order Soundtrack CD (Amazon UK)
Click here to read an interview with David Arnold about scoring Casino Royale.
Thanks to `beano` & `mtm` for the alert.
Discuss this news here...