New World Record set by Casino Royale stunt team for most cannon rolls in a car
New Bond film Casino Royale has been awarded a Guinness World Record - for the most cannon rolls in a car - reports
Yahoo
The scene, which features in the movie, is performed by stunt double Adam Kirley in the Bond Aston Martin.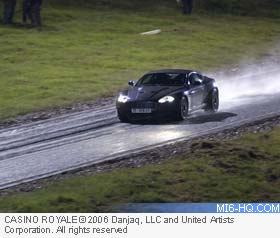 The car flipped and rolled seven times after a nitrogen cannon was used to propel the vehicle through the air.
It beat the previous record of six rolls performed by a Top Gear stunt man last year.
Casino Royale's stunt co-ordinator Gary Powell, who designed the manoeuvre for the film, featuring Daniel Craig as the new 007, said: "We rehearsed the stunt several times driving test cars, which were a similar weight to the Aston Martin, at 80mph towards a 10in ramp.
"That worked very well, causing the cars to flip over at least five times in rehearsal.
"But we knew, due to the design and suspension of the Aston Martin DBS, it would probably level itself out in mid-air.
"When we came to filming the stunt on the night, as suspected, the Aston Martin DBS levelled itself out in mid-air refusing to flip over.
"Adam, the stunt driver, had to drive the cannon fitted Aston at high speed and hit the release at exactly the right moment, resulting in the record breaking stunt."
He added: "We are thrilled to have broken the Guinness World Record."
Thanks to `No deals Mr.Bond` & `Nick ` for the alerts.
Discuss this news here...