Casino Royale beats Spanish box office record for 007 on opening weekend
The new James Bond film, Casino Royale, has become the most successful ever at the box office over its first weekend of release in Spain - reports
TypicallySpanish
.
The film with Daniel Craig in the star role took just under three million € over last weekend, overtaking the previous lead from 'Die Another Day'.
The fact that Craig came to Madrid to promote the film could well have endeared him to the Spanish public. He told them that he dismissed the negative comments about him during the shooting of the film, joking that it would be too much to say that now came the time for revenge.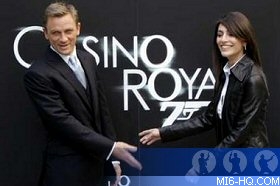 Click here for full coverage of the Madrid premiere.
Thanks to `James Bond007` for the alert.
Discuss this news here...