`You Know My Name` makes first round for `best song` Oscar nomination
The theme song to the new James Bond film "Casino Royale" has made the first round list for nomination in the "Best Original Song" category for this year's Oscars.
"You Know My Name", performed by singer-songwriter Chris Cornell and co-written by the film's composer David Arnold, is amongst fifty-six songs eligible for selection.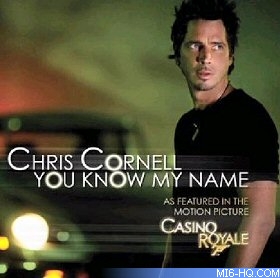 The single will be released in the UK tomorrow.
On Tuesday, January 16, the Academy will screen clips featuring each song, in random order, for voting members of the Music Branch in both Beverly Hills and New York City. Following the screenings, members will vote to determine which three, four or five songs become nominees in the category.
To be eligible, a song must consist of words and music, both of which are original and written specifically for the film. A clearly audible, intelligible, substantive rendition of both lyric and melody must be used in the body of the film or as the first music cue in the end credits.
Nominations for the 79th Academy Awards will be announced on Tuesday, January 23, 2007, at 5:30 a.m. PST in the Academy's Samuel Goldwyn Theater.
Academy Awards for outstanding film achievements of 2006 will be presented on Sunday, February 25, 2007, at the Kodak Theatre at Hollywood & Highland Center®, and televised live by the ABC Television Network at 5 p.m. PST, beginning with a half-hour arrival segment.
Thanks to `Irish007` for the alert.
Discuss this news here...