`You Know My Name` rises to #7 in UK singles chart
The title theme for the new James Bond theme has risen to #7 in the UK singles chart.
Last week, "You Know My Name" entered the chart at #12 on download sales alone.
The theme by singer-songwriter Chris Cornell, co-written by the film's composer David Arnold, went on sale on iTunes a few weeks ago and was riding high at #4 in the official UK download charts. It has since slipped down to #8 in the download charts on it's second full week.
Proving that CD sales still count for a large proportion of the combined UK singles chart, "You Know My Name" rose to #7 after release on CD on December 11th.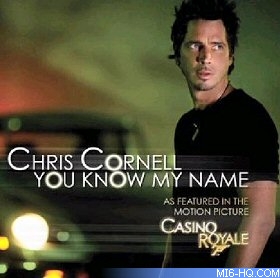 The single is available to order now.
Thanks to `Grunther` for the alert.
Discuss this news here...