Double Or Die officially confirmed as Young Bond 3 book title
The title of the
third Young Bond book
was revealed today by Young Bond author, Charlie Higson. Double or Die, the title of the latest book in the super selling Young Bond series, was chosen by the fans in an unprecedented nationwide ballot. Double or Die is published by Puffin Books tomorrow, Thursday 4th January, at £6.99.
Thousands of Young James Bond fans voted for their favourite of three given titles, devised by the author Charlie Higson: Double or Die, N.E.M.E.S.I.S. or The Deadlock Cipher. This is the first instance that readers have decided the title of a book.
<%image(cover_dod.jpg|280|310|Double or Die Cover Art)%>
The vote was conducted via the Young Bond website (www.youngbond.com) between 3rd October and 3rd November, where fans could read an exclusive extract from the book. The title of Young Bond 3 has been kept a closely guarded secret since voting was closed and the books have been printed under high security, each sealed in its own special foil packaging to conceal the title.
Charlie Higson revealed the title in front of Young Bond fans at a special party at Waterstone's Piccadilly today, where he also discovered the title for the first time himself.
The new book is an explosive, action packed thriller that sees the young James Bond delve in to the dark underworld of illegal gambling dens, Cambridge spies, East End gangs and tough Irish dockers. In Double or Die, James finds himself in close quarters to one of the most notorious gamblers and proves to be very lucky at the roulette table.
Twelve year old Billy Jones from Manchester, whose name appears in the book, was also at the party. Billy earned the opportunity to be in the third Young Bond book when he triumphed at the Young Bond Stunt Academy in January 2006. He and ten other contestants were taught the skills of a young secret agent by stunt professionals at a special day held at Eton College, Windsor, where both Ian Fleming and Young Bond went to school.
The latest Young Bond instalment features Billy as an able sidekick to Red Kelly, one of Bond's closest allies.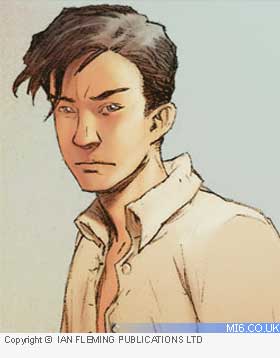 Above: The young James Bond as depicted in Blood Fever
.
Click here to read the exclusive MI6 interview with author Charlie Higson.
Discuss this news here...