Casino Royale DVD is #1 seller on Amazon USA
Despite the DVD not being released until almost two month's time, Casino Royale is currently the #1 best seller on Amazon USA.
The two-disc widscreen edition, which features over two hours of special features, is riding high at the top of the Amazon DVD chart on pre-orders alone.
Click here to pre-order for only $15.99 from Amazon USA
.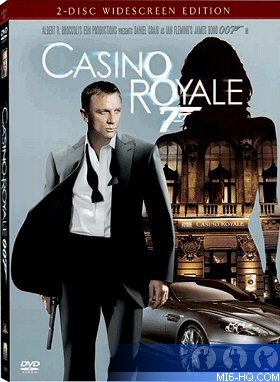 Region 1 two-disc DVD release in USA and Canada is scheduled for 13th March 2007 with a suggested retail price of $28.95. The film itself will receive an anamorphic widescreen presentation, and an English Dolby Digital 5.1 Surround track. A "full screen" 4:3 aspect ratio DVD will also be released on the same day for the same price.
Click here for a full preview of the Casino Royale DVD, UMD and Blu-Ray editions.
Discuss this news here...