Casino Royale DVD poker set Wal-Mart exclusive
Less than two weeks to go before Casino Royale is released on DVD, Blu-Ray and UMD in the USA.
Wal-Mart
will be releasing a special 'exclusive' poker set edition of the widescreen edition DVD for $19.96, including two packs of Carta Mundi playing cards and poker chip.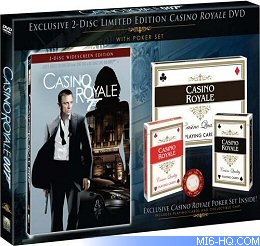 Have you pre-ordered yet?
Thanks to `Rogue_Double- O` for the alert.
Discuss this news here...