Casino Royale yacht sailor and Bond double dies in plane crash
He loved adventure, sailed one of his yachts to the Bahamas to be used in the latest James Bond film, and was fulfilling the ambition of a lifetime flying his light aircraft from Britain to Pakistan - reports
The Telegraph
.
But when Mick Newman crashed on Sunday, shortly after take-off in Turkey, his death led to allegations that appeared so far-fetched it would have stretched the credulity of 007.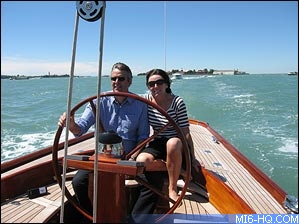 Mick Newman with his wife Wiss dressed as Eva Green during the filming of Casino Royale in Venice
As the wreckage of the plane was being recovered yesterday, Osman Gunes, the Turkish interior minister, claimed that Mr Newman and his passenger, Zaka Ulab Bhamgoo, a former general for Pervez Musharraf, the Pakistan president, were being trailed by MIT, the Turkish intelligence services.
A Turkish newspaper then added to the intrigue, claiming that Mr Newman, who is well known in British yachting circles, might have been taking nuclear secrets or materials to Iran.
It also quoted a hotel owner in Trabzon as saying MIT had sought information about his two foreign guests and the Turkish authorities are looking into the possibility that the men were intelligence agents.
The allegations have shocked friends and family back in Suffolk, where Mr Newman was the co-owner of a successful luxury yacht-building business.
Sean McMillan, who has run Spirit Yachts in Ipswich with Mr Newman for 14 years, said: "It's laughable. It's complete nonsense and sounds to me like a politician trying to make a name for himself."
He said Mr Newman, 53, was nearing the end of a three-week "trip of a lifetime", flying his twin-seater Sky Arrow 650T plane from England to Pakistan with Mr Bhamgoo, an old friend and fellow plane enthusiast.
The plane crashed in remote mountainous terrain shortly after take-off from Trabzon in northern Turkey on Sunday. It was due to fly to Pakistan via fuel stops in Iran.
The take-off had been delayed by a couple of days because of severe weather - they had tried taking off the day before but had to turn back - and Mr McMillan said he believed they were trying to return to Trabzon when the plane disappeared off the radar and crashed 30 miles south of the city, killing both occupants immediately.
Given the political climate, an Englishman and Pakistani flying into Iran may excite the conspiracy theorists. Mr Newman's family was waiting last night to see if the claims were being substantiated in any way.
Mr McMillan said: "I have known Mick for 15 years. He's not a political guy and the idea that he was carrying nuclear material or something is ludicrous and laughable. Something out of James Bond would have been more believable."
Mr Newman, who made a career from yacht-building and restoring, was an experienced amateur pilot, as was Mr Bhamgoo, 53.
They met several years ago at a charity flying event, raising money for a Pakistani village.
Mr McMillan said: "Their joint love of planes joined them in a very close friendship. They had spent time flying in each other's countries and this was their great adventure from England to Pakistan. It was Mick's own plane.
"They reckoned it would take three weeks. They had planned it extremely well but they couldn't plan for catastrophic bad weather at the wrong moment. From what I can understand, the weather closed in over the mountains."
Having taken off from Turkey, the pair were due to land three times in Iran to refuel before reaching Pakistan, where they would spend a few days flying before the plane was shipped back to Britain. Mr McMillan said they had all the correct documentation and visas.
Mr Newman's eldest son, George, said his father had been planning the trip for almost three years and described the project as "very dear to my father's heart".
Mr Newman's widow, Wiss, was too upset to comment.
Last year Mr and Mrs Newman and their younger son, William, sailed a yacht to the Bahamas and then Venice for the shooting of Casino Royale after being contacted by the production company that wanted to borrow one for the film.
Mrs Newman doubled for the Bond girl Eva Green on some of the sailing shots.
The Foreign Office said yesterday it was aware of the allegations and was working with the Turkish authorities to investigate them.
Thanks to `Barracuda` for the alert.
Discuss this news here...