Danjaq file lawsuit against Cadbury India for old advertising campaign
It's a plot that Ian Fleming didn't script. But it has got his creation, the world's numero uno spy with guns, gals and gizmos, James Bond 007, all shaken and stirred. Only in this case, Bond is out to squash the challenge of not some nuke-wielding terrorist but an ad for a sweet-coated chocolate candy from Cadbury India.
The UK-based Broccoli family, owners of Danjaq LLC—producers and copyright owners of James Bond series of films since 1962—has served a legal notice to Cadbury India alleging copyright infringement. The Danjaq legal notice comes years after Cadbury India launched the ad featuring Gems Bond, a fictional character who shoots sweet Gems from a gun to kill bad men - reports
India Times
.
Incidentally, Cadbury had also sued a Delhi-based company for marketing a product similar to Gems and the Delhi High Court issued an injunction in Cadbury's favour on Friday. Meanwhile, though Danjaq's copyright infringement case was served a few months back, it is yet to come up for hearing.
"We launched the ad campaign long back. It's now off air. I feel completely clueless about it now," responds O&M national creative director Piyush Pandey, who conceived the Cadbury advertisement that featured the Bond rival. "Next we may hear Brooke Bond suing James Bond since the tea brand is much older," he jokes. The Cadbury ad displayed a boy dressed in a black suit holding a gun in a white circular background. The ad said: "Cadbury's Presents Gems Bond—Non stop excitement!" The lift is, of course, striking.
In its notice to Cadbury, Danjaq says: "The mark 'Gems Bond'' can't be a matter of coincidence and shows clear dishonesty to illegally cash in upon the long-established goodwill and reputation of 'James Bond'. The act of 'Gems Bond' being phonetically similar to James Bond cannot be accidental. It is intentional and is fraught with risk of damage to our reputation." Cadbury India has, however, replied that the Gems ad campaign had no similarity with James Bond and therefore it was not a violation of copyright.
"The legal case for copyright infringement does not arise as Cadbury had unilaterally withdrawn the ad many years back. It can never be contested. At best the ad can be a parody on James Bond, which is allowed by law. Indian IP laws allow a legal case to be filed only within three years of the infringement. Cadbury withdrew the ad five years back," Cadbury India's legal counsel Chander M Lall told ET. Cadbury India officials were not available for comment. Owned by Barbara Dana Broccoli and her half-brother Michael G Wilson, Danjaq LLC was created in 1962 by Albert R Broccoli and Harry Saltzman.
Danjaq was named after Dana and Jacqueline, the founder's wives, after the release of Dr No—the first Bond flick in 1962. The company and its subsidiary EON Productions have produced all the 22 James Bond sequels from Goldfinger (1964), Octopussy (1983), GoldenEye (1995), Casino Royale (2006) and Bond 22 (to be released in 2008). A fictional UK spy agent, James Bond was created by ex-Reuters sub-editor Ian Fleming in his 12 novels. Companies try to associate their products with him, to garner immediate brand value.
Ironically, the Danjaq notice comes after Cadbury sued Delhi-based Neeraj Food Products for copying Gems. NFP sells similar sweetcoated chocolates under 'James Bond'. Acting upon the Cadbury notice, the Delhi High Court last week refrained NFP from selling 'James Bond' sweets and asked it to withdraw its product from the market immediately.
"NFP's usage of James Bond is likely to confuse children. It shows dishonest conduct on NFP's part," Mr Lall adds. Reacting on the development, Danjaq says it was astonished to learn about the Cadbury versus NFP case. "It is not understood how yourself—a pirate, can dare file a frivolous suit against a third party," Danjaq LLC has told Cadbury India. Surprisingly, Danjaq woke up only after Cadbury filed a case against NFP and had stopped airing its campaign. Whatever be the case, James Bond 007 may not be comfortable having Cadbury's bar in his future films.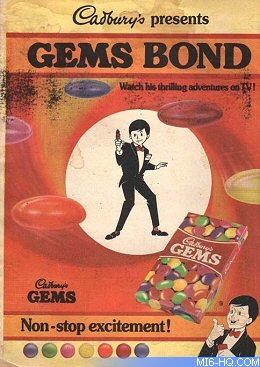 Above: A Cadbury India "Gems Bond" advert from the 1980's
Discuss this news here...