Casino Royale and James Bond scoop gongs at ITV Movie Awards
Casino Royale and James Bond have scooped two gongs at the ITV's first National Movie Awards at London's Royal Festival Hall. The winners were voted for by the public over the internet, phone and by filling in a form which had been made available at UK cinemas - reports the
BBC
.
Casino Royale, the latest Bond adventure - starring Daniel Craig - won best action and adventure movie, beating the likes of Die Hard 4.0 and Transformers.
The James Bond franchise also won the special recognition award at the event.
The movie's producers Barbara Broccoli and Michael G Wilson accepted the honour.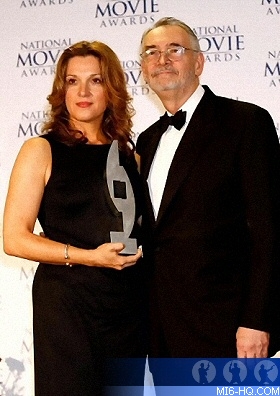 "It's great to be voted for by the public," Wilson said.
However he refused to reveal any information about the next Bond film that is being planned.
"You'll just have to come and see it," he said.
Having beaten heart-throb Craig to best male, Radcliffe said he was not too sure whether he would ever consider taking over as Bond.
"It would be weird to suddenly be involved in another big franchise, but hey, it takes a big man to turn down Bond," he said.
Joking about his height he added: "I don't think the world's ready for a short-arse Bond."
Harry Potter and the Order of the Phoenix dominated the evening, after winning three gongs.
The fifth film in the Potter series won best family movie, while its star Daniel Radcliffe, who plays the boy wizard, won best male performance.
Radcliffe, who was greeted by screaming fans on the red carpet, said winning the award was "totally unexpected".
Emma Watson, who plays Hermione in the movie, scooped best female actress.
When asked if she had expected to win, the 17-year-old said: "I can honestly, honestly say I didn't. I didn't dare to dream. I'm absolutely amazed and thrilled."
She pipped Dame Judi Dench, Eva Green, Kirsten Dunst and Keira Knightley to the award.
Speaking before the ceremony Emma's father - who accompanied his daughter - said he was "extremely proud" of her.
He also insisted she still gets pocket money from him despite the star having reportedly made millions from the Potter series.
Hot Fuzz, starring Simon Pegg and Martin Freeman, beat Borat, Night at the Museum and Mr Bean's Holiday to the best comedy title.
When asked how he felt about winning the award Pegg said: "It's a complete joy. We were nervous and you always kind of hope, you pretend you don't care, but you do really.
"You get called out and it's wonderful, a real treat and I hope this goes on and on and we win more and more in the future."
The Simpsons Movie beat rivals Shrek the Third, Happy Feet and Flushed Away to best animation.
Yeardley Smith, who is the voice behind Lisa Simpson, accepted the award on behalf of the cast and crew.
She said Lisa would be "absolutely thrilled" to accept the gong.
The Potter film, which topped the UK and Ireland box office for two weeks when it was released in July, beat Pirates of the Caribbean: At World's End and Spider-Man 3.
Rupert Grint, who played Ron Weasley, missed out on best male to his co-star Radcliffe and joked afterwards how he thought the vote had been "fixed".
Despite that he agreed the award had gone to the right man.
"Obviously I didn't expect to win, because I think Dan deserves it more than me," he said.
Before the ceremony the star who spent time signing autographs for fans revealed one of the biggest things he had spent his wages on was an ice cream van which he drives around in.
Dame Helen Mirren attended the event and presented one of the awards but failed to pick up a nomination herself.
When asked how she felt about that, the actress said: "Absolutely thrilled. It's always better to give than to receive."
The star who has enjoyed a successful year including winning an Oscar added: "I was frightened if I got nominated for anything else I'd actually be stabbed leaving the venue."
Other stars who attended included Christian Slater, Mischa Barton, Jamie Foxx and Dame Judi Dench.
Take That were also there and performed Rule the World, a song they recorded for the fantasy film Stardust.
The show will be broadcast on ITV1 on Saturday at 2130 GMT.
Discuss this news here...