Changes made to Dutch edition `Double Or Die` cover artwork
Some small tweaks have been made to the final cover artwork of the Dutch edition of "Double Or Die".
Click here to see the draft edition.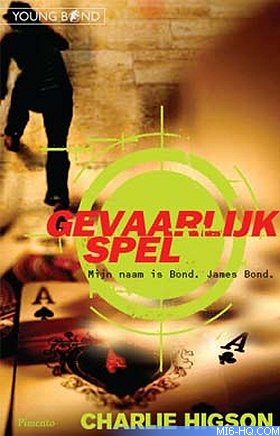 As previously reported on MI6
, the title of
"Double Or Die"
will be "Gevaarlijk Spel" in the Netherlands -- it roughly translates to "Dangerous Game".
The book will be released on 15th April 2008 by Pimento Kinderboeken for €15.95.
The first two books, "SilverFin" (Missie SilverFin) and "Blood Fever" (Bloed Koorts), were released in The Netherlands in March 2006 and September 2006 respectively.
Data Stream (Dutch Edition)
Title: Gevaarlijk spel
Category: Fiction 13 - 15 years
Binding: Paperback
Pages: 416
Publisher: Pimento Kinderboeken
Released: 15-04-2008
ISBN13: 9789049922405
Dutch Blurb (vanstockum.com)
Met ontvoering, geweld, explosies en moord kon je het niet bepaald een gewoon weekend noemen. Maar de jonge James Bond is dan ook verre van gewoon…
Een leraar van James' kostschool Eton wordt ontvoerd. Kort na zijn verdwijning wordt er op Eton een brief in geheimschrift afgeleverd. Algauw komen James en zijn schoolgenoten Pritpal en Perry erachter dat de geheimcodes leiden naar de verblijfplaats van de leraar. Maar om de codes te kraken, moeten ze eerst een gevaarlijk spel spelen. En dan hebben ze nog precies achtenveertig uur de tijd om de leraar te bevrijden uit de handen van zijn meedogenloze ontvoerders. Anders staat niet alleen het leven van zijn leraar op het spel, maar dat van iedereen…
Charlie Higson schreef een bloedstollend avontuur over de wereld van illegale goktenten, Cambridge-spionnen en East End-gangs.
Discuss this news here...