Austrian opera stage finally confirmed for `Quantum of Solace` filming in May
Austrian theatre chiefs running a spectacular floating stage that has a giant eye as a backdrop have confirmed that part of the next James Bond film
"Quantum of Solace"
will be filmed there.
The filming will take place on Lake Stage Bregenz, a huge platform floating on Lake Constance, and
James Bond will fight his enemies during a performance of Giacomo Puccini's opera Tosca
.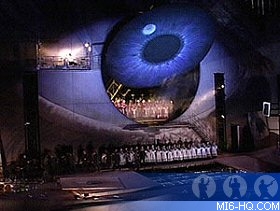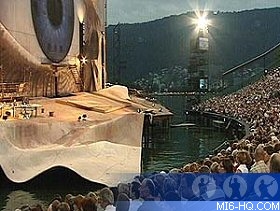 The central 'eye' rotates in the stage backdrop (top), the 7000-strong audience watches from inclined seating (above)
The 200-man-plus film crew will be in Bregenz for 10 days from April 30 to May 9, and 1,500 extras have already been recruited, Swiss production company Unicorn Media confirmed in a Friday statement confirming rumours that have been circulating for some time.
Director Marc Forster and producers Barbara Broccoli and Michael G. Wilson visited the Seebuehne in Bregenz for a dress rehearsal last summer and were very enthusiastic about the location.
"The Seebuehne is really an extraordinary place, the scenery is spectacular," Broccoli said. Wilson added: "What we saw in July 2007 was very impressive. James Bond movies have always taken the cinema audience to special locations - and the gigantic eye of the Tosca scenery is absolutely unique.
"The Tosca scenery with the huge blue eye fits the story of the new James Bond movie perfectly," Forster added.
Daniel Craig himself revealed that he is also looking forward to filming at the Seebuehne.
He said: "I've never been to Austria, and I'm very happy that my career is finally taking me there. The Seebuehne and the Bregenzer Festspiele are world famous, and we will spend more than a week there to shoot one of the movie's most-important scenes."
Discuss this news here...