`GoldenEye 007` rumours return, major revelation expected next week
The long and winding road of "GoldenEye 007" rumours looks likely to take another twist and turn next week.
In recent months, stories have circulated that
a team at Microsoft had reworked the classic N64 James Bond videogame for Xbox Live Arcade
. According to reports,
Nintendo nixed the project at the 11th hour over a financial dispute
.
Just when the prospect of a re-release of the best-selling 007 game looked unlikley,
Xbox World
magazine reheats the excitement.
"Next Wednesday, in Xbox World 360, you'll find the first ever shots and definitive hands-on details behind one of this year's biggest stories. Yep, it's the story the whole world wanted, but only we got - and we unleash it next Wednesday in Xbox World 360. Will you be excited? Oh yes. Will you, like us, be just a little bit angry too? Mmmm, maybe. Want to know more? The mystery unfolds - in shops - in seven days time."
The magazine's website has released teaser 'jigsaw pieces' of a screenshot from the game, which someone has collected to form the image below. This is clearly a screenshot from an updated graphics engine showing the first mission from "Goldeneye 007".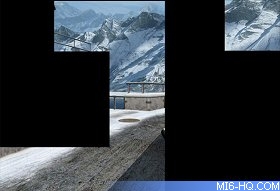 Discuss this news here...