007 book covers by Raymond Hawkey receive fresh praise
Of the many collections of James Bond books, by far the most successful series is the Pan paperback editions published in the mid-to-late 1960s - reports the
Financial Times
. Previous Bond covers had been illustrative, nicely painted but not exactly stylish. Subsequent covers would accentuate the guns, gadgetry and glamorous girls but little else.
The Pan covers have a stark elegance, and are consistently menacing and memorable. Each has a single photographic image on a plain or textured background. Blurb is dispensed with. It's the visual equivalent of a cruel, sardonic smile.
The man responsible is graphic designer Raymond Hawkey, who has spent most of his illustrious career working for newspapers. Hawkey befriended author Len Deighton while they were students at the Royal College of Art, and his first jacket design was for Deighton's The Ipcress File (1962). It shows a snub-nosed revolver lying next to a grimy coffee cup with a cigarette stub squashed out on the saucer. Between the two items are a bullet and a pair of paperclips, similar in outline, utterly divergent in purpose. Hawkey's Bond covers share its minimalist aesthetic, although of course there are no grimy coffee cups in the world of Ian Fleming's super-spy.
For
Thunderball
, Hawkey fills the cover with a close-up of a man's naked back, perforated by two bullet holes. These are actual holes, die-cut into the card. Surrounding each is a torn-paper effect. It's not the man who has been shot, it's the book – and, as proof, the bullets can be found inside, depicted on the opening page. Bond's life is so dangerous, this cover tell us, even books about him aren't safe. Read on if you dare.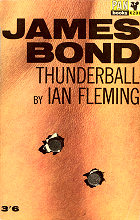 Interestingly, the Thunderball book is the only one where Hawkey is credited on the back. Its cover is the best of an outstanding set of images and the acknowledgement of the designer suggests the publisher thought so too.
Discuss this news here...