SAL wins Devil May Care book themesong contest
Cardiff-based band, SAL have today received the exciting news that their track will be given pride of place on the audio book for
Devil May Care
, the eagerly awaited new James Bond novel by Sebastian Faulks. SAL's track will be exposed to a potential audience of millions, securing them a place in 007's history.
More than 500 musicians submitted original work through the book's MySpace profile in the hope their track would be chosen as the official theme tune to Devil May Care. The book is due to be published on 28th May 2008 to mark the centenary of Ian Fleming's birth.
After careful deliberation by a panel of expert judges, SAL's track was selected for the shortlist alongside four other artists and then put to a public vote. Within the MySpace community SAL emerged as a clear winner after the tracks were put to a public vote within the MySpace community.
SAL is a four-piece punk/rock outfit who are made up of Catrin Wyn Southall, Lee Lavis, Chris Saunders and Denley Calais Slade. SAL's debut album 'Dysfunctional' was produced by Greg Haver of Manic Street Preachers and Catatonia fame and released in 2005. SAL are currently working on their second album and regularly perform at gigs across the UK.
The high-profile judging panel which chose SAL's track for the shortlist included the book's author Sebastian Faulks and respected figures from the world of literature and music, including cult music producer Jazzie B and Matthew Fleming, great nephew of original Bond author Ian Fleming. Dom Cook, Head of Music for MySpace UK and Alex Clarke, editor of Devil May Care were also judges.
Dom Cook, Head of Music for MySpace UK, comments: "A big congratulations to SAL! The result of this competition really demonstrates the creativity and talent which can be found within the MySpace community, as well as the importance of fans being able to engage with, and support artists in this way."
Alex Clarke, Penguin Editor of Devil May Care commented, "We were incredibly excited to see which track the public would vote for. They voted for Sal and we couldn't be happier. SAL's 'Devil May Care' oozes the excitement and glamour of Bond and is a fitting theme tune to the book. A well deserved win – I can't wait to hear it on the audio book in May."
Cat Wyn Southall, frontwoman of SAL, says: 'It feels great to know that there's so many people out there who liked our song enough to vote for us. We feel very proud to have a SAL song as the theme for Devil May Care!'
SAL's track, Devil May Care, is the first theme tune to accompany a James Bond book and will be featured on the Devil May Care audiobook, published 28 May 2008. It will later be made available as a free digital download via Penguin and iTunes.
MySpace users can listen to the winning track by visiting: http://uk.myspace.com/devilmaycarebook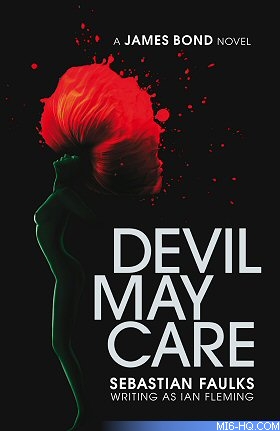 Discuss this news here...