Avon to introduce Bond Girl 007 fragrance with Gemma Arterton
Avon Products, Inc. today announced a collaboration with the James Bond entertainment franchise, property of Danjaq LLC and Eon Productions, to create a new signature Bond Girl 007 women's fragrance, bringing the confident allure of cinema's sexiest icons to Avon consumers worldwide. British actress Gemma Arterton, who plays the role of Agent Fields in the upcoming Bond film, will be the face of the new fragrance. She will appear in TV and print advertising when Bond Girl 007 launches globally in October 2008 in conjunction with the worldwide release of "Quantum of Solace," the 22nd film in the Bond franchise, which is the largest and longest running movie franchise in history.
"I'm thrilled to be working with two such iconic and established brands," said Gemma Arterton. "The Bond Girl 007 fragrance embodies everything a Bond Girl represents -- intelligence, sexiness and confidence."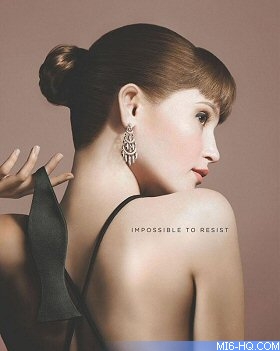 "As part of our on-going alliance strategy, we strive to bring unique equities to Avon and James Bond provides an unparalleled partnership opportunity. The iconic Bond girls are one of the most widely known aspects of the films -- they're empowered, feminine and glamorous, so we're extremely pleased to capture that essence in our newest fragrance," said Geralyn Breig, Senior Vice President and Brand President for Avon.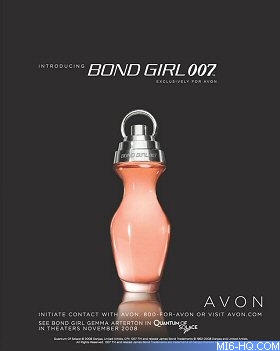 Tracy Haffner, Vice President, Global Marketing added, "Our strategy in the fragrance category is to build a strong portfolio through unique and exciting partnerships. Aligning with the James Bond franchise gives us such a great platform to develop a beautiful fragrance and connect with women worldwide."
Keith Snelgrove, Sr. Vice President of Global Business Strategy at Danjaq LLC stated, "This was the perfect collaboration for two globally recognizable companies. By partnering with Avon to create a fragrance, we're able to bring a piece of the Bond Girls represented in our movies into the lives of women all over the world."
The fragrance, created by Firmenich, evokes the glamour, confidence and sensuality of the famous femmes fatale of the Bond franchise. The scent is a sexy cocktail of velvety florals, cool freshness and warm woods. It features top notes of velvety white peach and orange blossom followed by mid-notes of jasmine, calypso orchid and freesia. The drydown consists of amber, cashmere wood and patchouli. Bond Girl 007 is housed in a sleek, seductive bottle reminiscent of a woman's body. The cap is a stealthy homage to a Bond spy gadget.
The fragrance will be featured in the Avon brochure, which is distributed through over 5 million Avon Representatives around the globe, as well as on the company's website. It will be supported by print and TV advertising in Avon's top markets throughout North America, Europe and Latin America.
Discuss this news here...