Ian Fleming`s Secret War to be released in the USA
The forthcoming book "Ian Fleming's Secret War" by Craig Cabell is to be released in the USA.
Publisher Pen & Sword Military will release the title in the USA in October 2008 for $32.95.
It is available to pre-order from Amazon USA
.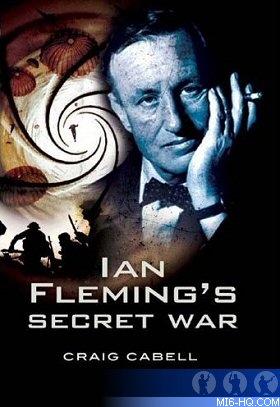 Official Blurb
While his extravagant and glamorous lifestyle is well known, little has been published concerning Ian Fleming's contribution during the Second World War. In the very early days of the War, Fleming was earmarked by the Director of Naval Intelligence as his 'right hand man'. From the outset he was in the centre of events, meeting with key political and military figures as well as those of exceptional intelligence, experience and courage. All this was to give him invaluable background when he came to write the Bond novels. The author has uncovered through official documentation, private papers and contacts the depth of Fleming's work in Naval Intelligence. Fascinating insights of those he worked with and details of covert trips to Europe and North Africa emerge. Fleming was closely associated with 30 Assault Unit, a crack team of Commandos who took the fight to the enemy. The book reveals both the history of 30 AU and Fleming's role.
Click here for the full preview on MI6
.
Discuss this news here...