Another edition of `Quantum of Solace` short stories coming in October
With no movie novelization planned for the 2008 James Bond film "Quantum of Solace", Penguin Classics
released a "complete collection" of Ian Fleming's short stories in paperback
to coincide with the centenary celebrations.
To cash in on the movie,
another
edition in hardback and paperback will now be published in October - just five months after the collection was released. Double dip, anyone?
As with the
first paperback
, the title of the collection is taken from one of the included stories...Quantum of Solace.
The
short story penned by Ian Fleming
has no real connection to the
new film of the same name
.
Penguin, who recently reissued Fleming's novels, will publish the title in hardback for £20.00 and £6.99 in the UK (the current paperback edition retails for £8.99 in the UK and $15.00 in the USA).
Click here to pre-order UK paperback (October 2008 edition)
Click here to pre-order UK hardback (October 2008 edition)
It will be released on 30th October 2008 in the UK, just a day before "Quantum of Solace" hits theatres.
No details on cover art have been revealed yet, but it could feature movie tie-in graphics.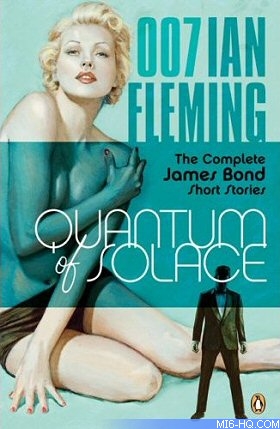 Above: Cover art for the US paperback edition due out in August.
Discuss this news here...