Review: The banned Bond book that must be read
"The Battle For Bond: review by
Teletext
The Battle For Bond tells of the 1963 court case that Ian Fleming fought in the High Court over the rights to Thunderball, writes Doug Cooper.
It's a complicated case and this book, giving the details of it, reads like a thriller - it's riveting.
Unfortunately, the Ian Fleming Will Trust took exception and, through their lawyers, had the book pulped last year. It's now been reprinted and revised.
Apparently, their bone of contention was the printing of nine innocuous documents - certainly nothing of revelatory importance to the narrative.
Why did they choose such trivial matters to take the book to task?
As Len Deighton, author of The Ipcress File among many others, says in the foreword of this new reprinting: "How Ian Fleming would have hated to know that this book had been censored."
"Ian hated censorship and, as an author, he would have deplored the steps that have been taken in his name," says Deighton in the foreward.
Perhaps there was another reason the Ian Fleming Will Trust and their lawyers had the book foolhardily banned. If, so, why not tell us?
But it's out in shops again now - without the nine documents - and is certainly worth purchasing.
Author Robert Sellers gives a spellbinding account of the court case and paints a vivid picture of Fleming and his opponents, screenwriter Jack Whittingham and producer Kevin McClory.
It's a clearheaded and immensely readable chronicle.
Fleming's first choice for Bond when a movie was mooted in 1959 was Richard Burton, and he also invited Alfred Hitchcock to direct.
The book also covers McClory's ill-fated attempt to revive James Bond with his own remake of Thunderball in the '70s, called Warhead.
Sean Connery was persuaded back and the book features never-before-seen photos of him at the Statue of Liberty, scene of a proposed major location.
Alas, the film was never made, but it resurfaced in another guise as Never Say Never Again in 1983.
The making of this movie is detailed too, being a loose-limbed remake of Thunderball that was very troubled.
Screenwriters Dick Clement and Ian La Frenais, who gave an uncredited rewrite, are among those interviewed, and are very honest in criticising it.
For Bond fans then, this book is essential reading. For others, it's an outstanding effort, highly recommended.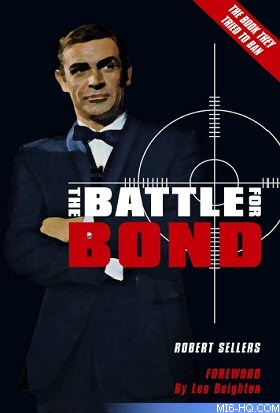 Click here for a preview of the new edition in MI6
.
Thanks to `Robert` for the alert.
Discuss this news here...