Halle Berry voted `sexiest woman in the world` by 2003 FHM magazine poll (UK)
Ananova
have reported that Halle Berry has been named the world`s sexiest woman by FHM magazine - the oldest ever winner at 36. The actress is also the first black recipient of the honour.
More than five million votes were cast for this year`s FHM 100 Sexiest Women in the World 2003 competition.
Berry said: "I thank you very much for choosing me - wow. That`s a pretty heady title. I`m not so sure I live up to it, but thank you anyway for choosing me."
The star chose an unlikely part as her sexiest feature: "I think my feet are my sexiest body part. People I find really sexy include Angelina Jolie, George Clooney and my mum."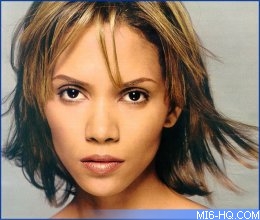 Berry shot up 33rd place in 2002 thanks to her sexy high-profile roles, including Die Another Day. The oldest previous winner was fellow Bond girl Teri Hatcher in 1997, who was 32 at the time of her win.
The 2003 Top 20
1. Halle Berry
2. Holly Valance
3. Britney Spears
4. Rachel Stevens
5. Carmen Electra
6. Jennifer Lopez
7. Jennifer Love Hewitt
8. Anna Kournikova
9. Kylie Minogue
10. Jolene Blalock
11. Christina Aguilera
12. Sarah Michelle Gellar
13. Kelly Brook
14. Elisha Cuthbert
15. Beyonce Knowles
16. Nell McAndrew
17. Kristin Kreuk
18. Sarah Whatmore
19. Victoria Silvstedt
20. Sarah Harding
Thanks to Graves for the alert.

Discuss this news here...