Sony preview `Casino Royale` Collectors Edition DVD and Blu-Ray, new trailer video
Sony Pictures Home Entertainment will march out a re-release of one of its bestselling Blu-ray titles with the
Oct. 21 release of Casino Royale
. The release coincides with the street date of six classic James Bond films on the format, and the theatrical release of the next Bond film, Quantum of Solace (Nov. 14) in the USA - reports
HMM
.
Click here to watch the "Casino Royale" Collectors Edition trailer video (YouTube.com)
Re-releasing titles with added bonus features or special packaging, sometimes timed with a holiday, anniversary or new theatrical release, has long been a lucrative part of the DVD business. For Blu-ray, Warner Home Video was the first to release a "double dip," following its September 2006 release of Full Metal Jacket with a deluxe edition in October 2007, according to The DVD Release Report. The second version featured bonus features beyond the bare bones on the first version.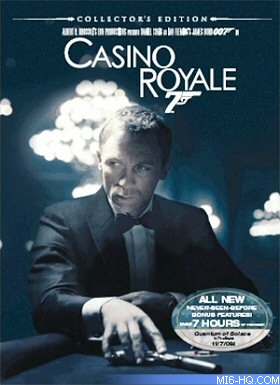 Click here for full details on the "Casino Royale" Collectors Edition DVD and Blu-Ray
"We learned from the growth of DVD that there's an almost insatiable appetite for these familiar films," said David Bishop, president of SPHE. "If you change what you're offering, there's a core group of consumers that will pick it up."
The two-disc Casino Royale: Collector's Edition ($38.96) has seven hours of bonus features, including a picture-in-picture commentary; a BD Live, multiplayer trivia game; and movie cash toward a ticket for the new film.
Bishop said he expects studios to do more re-releases with Blu-ray, enabling discs with BD Live features and more.
"It will ramp up in the coming years," he said. "The exciting thing is [BD Live] opens up the format more than ever. We can have direct communication with the consumer, and constantly update the experience."
Thanks to `gt007` for the alert.
Discuss this news here...