`Quantum of Solace` USA theatrical release poster unveiled
As reported by MI6 earlier this week, the final "Quantum of Solace" theatrical release poster for the USA has been revealed to be the same as the
official soundtrack
CD.
Click here to view on ComingSoon.net
.
The new poster uses images from the finale of the film, when 007 and Camille showdown with Dominic Greene and General Medrano at their Bolivian desert lair Perla De Las Dunas (seen burning in the background).
Like the previous film "Casino Royale", the UK and European theatrical release posters may offer an alternative design. No details on the European campaign have been revealed yet.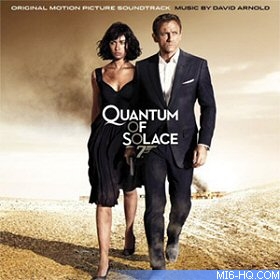 Above: Cover art for the film's soundtrack CD - click here for full coverage.
Discuss this news here...