Real-life Ice Hotel bookings hot up thanks to Gustav Graves in `Die Another Day`
An ice hotel in Quebec, Canada, is really hotting up thanks to 007. Since Gustav Graves chose an Ice Palace to unveil his evil scheme in the $425m grossing "Die Another Day", interest in a real-life ice hotel has hit an all time high.
In its third season, the Hotel de Glace is an expansive winter wonderland in the Canadian province of Quebec. It is also the only one in North America.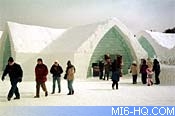 The hotel is 30,000 square-foot "building" made of 12,000 tons of snow and 400 tons of ice. The glacial palace features art galleries, a chapel, a spa, movie theater, nightclub, even a 007-theme suite with huge, swanlike bed and diamonds carved from, you guessed it, ice.
In the lobby, a massive ice chandelier glistens overhead and towering columns point to an 18-foot-tall ceiling of tightly-packed snow. Rooms are filled with elaborate snow sculptures and small details, like real newspapers and flowers, albeit frozen.
Nearly 5,000 guests have slept at Canada`s ice hotel since its debut in 2000. The hotel had a $1.6 million operating budget this year.
"I`d heard about the one in Sweden but who has the money and time to go there," said Richard A. Lebkowski of Toronto. He stayed in the 007 suite after learning about it online.
"My feet were cold but this was worth the experience," Lebkowski said the next day.
Absolut vodka, who took over from Smirnoff as 007`s choice of tipple, sponsor an Ice Bar in the hotel.

Discuss this news here...