`TND` style US Navy stealth ship being given away
The US Navy is giving away a pair of top-secret stealth war boats in a spring clean. It has been trying to get rid of the two vessels since 2006 and they'll end up as scrap metal if somebody doesn't claim them soon - reports
The Sun
.
The first giant black ship, called Sea Shadow, looks just like Elliot Carver's ship from the 1997 James Bond film "Tomorrow Never Dies".
The other, a mining barge, is known as the Hughes, after American aviator Howard Hughes. The Wall Street Journal described it as a "floating field house".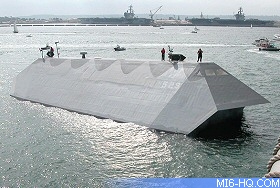 The imposing ship is colossal, with the door alone at 76ft wide and 72ft high. Sea Shadow berths inside the barge, which keeps it safely hidden from spy satellites.
But anyone who wishes to take on these awesome ships will have to go through a tough selection process. The Historic Naval Ships Association has warned the process will be: "A bloodthirsty, paperwork ridden, permit-infested, money-sucking hole."
The Navy has said it will not pay for any repairs and if the ships are taken on by a museum they will have to rely on visitor donations for the upkeep of the mighty vessels. The US navy has given away 48 ships in the last 60 years, mostly vessels that were famous for performing heroically in prominent battles.
Discuss this news here...