`Quantum of Solace` videogame soundtrack on limited released
The soundtrack to the Activision videogame "
Quantum of Solace
" is now available on CD as a limited release.
Scored by Christopher Lennertz, who also provided the soundtrack to EA's 2005 title
"From Russia With Love"
, the "Quantum of Solace" videogame official soundtrack is now available for free via
BuySoundtrax.com
when you purchase over $100.
Track Listing
1. The James Bond Theme* (2:11)
2. Main Menu (1:33)
3. Science Center Fight (2:16)
4. Double Down (1:41)
5. Between Vitrines (1:58)
6. Runway Incursion (2:33)
7. Toward Montenegro (2:22)
8. Night Train Fight (2:02)
9. Piazza San Marco (2:12)
10. Elevator Plunge (1:58)
11. On The Barge (2:25)
12. White's Interrogation (2:10)
13. Siena Rooftops (2:37)
14. White's Estate (2:54)
15. Bregenz Floating Opera (3:10)
16. Skyfleet (2:35)
17. Guy Haines (2:09)
18. Madagascar Sprint (1:52)
19. Down The Sinkhole (2:01)
20. The Eco Hotel (2:36)
"It was an honor and a pleasure to continue my association with the Bond franchise," said Lennertz. "After scoring for the legendary Sean Connery, to be able to continue with the modern 007 and lend my music to the exploits of Daniel Craig is another thrill for me. The music turned out amazing, and the game is fantastic, so pour yourself a shaken martini and play it again and again...and turn it up!"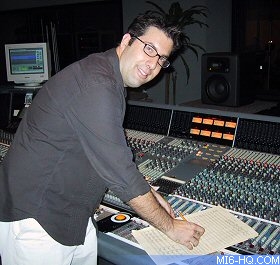 Click here to read the MI6 interview with Christopher Lennertz from 2005
.
Discuss this news here...