Giant Scalextric track built for Aston Martin DBS race
Hornby Hobbies is in pole position to lap up the spotlight in a new TV series hosted by Top Gear TV presenter James May. The Margate-based toy makers feature in three of the six Toy Story programmes, to be aired on BBC Two over the peak toy-buying period between November and Christmas.
In the series James is on a mission to celebrate traditional toys on a massive scale. The show sees him building life-size Airfix models of a Battle of Britain Spitfire and a Chieftain tank, racing model cars on a 2.75 mile Scalextric track and constructing ten miles of Hornby railway line.
15,000 pieces of Scalextric will go into rebuilding the 2.75 mile circuit at Brooklands race track. When completed, two Scalextric model cars, the James Bond Aston Martin DBS and the Mercedes-Benz SLR McLaren, will tear around the track. It will be the first time that cars have raced at Brooklands since it closed in 1939.
Scalextric recently released a
series of racing sets based on the latest James Bond film, "Quantum of Solace".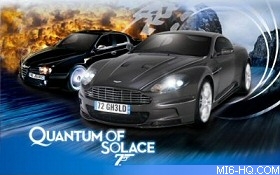 Scalextrix marketing manager Adrian Norman added: "Three hours of prime time viewing dedicated to Hornby and supported by flavour-of-the-month TV presenter James May. Our products couldn't be better promoted."
Discuss this news here...