LG launches £500 `James Bond` style watch phone
A "James Bond" style watch phone made by LG is going on sale next week for £500 - reports the
Telegraph
. The gadget, which will be one of the three most expensive phones on the market, and is being sold exclusively by Orange, the operator, to pay as you go customers.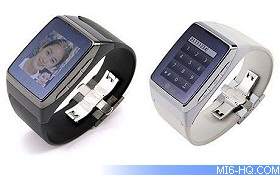 The watchphone, in looks and operation, appears to have stepped straight out of a 1980s spy thriller and Orange says it has an inbuilt speaker that lets you "listen to the Essential James Bond theme album when you're imprisoned in a fake volcano or battling with Jaws".
To make a voice or video call, the owner can just speak directly into the voice-activated device. The Casio-style screen can also be operated by touch.
For those that tire of raising their wrists to their mouth every time they make a call, there is a bluetooth handset that can be strapped to their ear.
However, despite its futuristic design and high price tag – only an iPhone and Nokia's N97 are more expensive for pay-as-you-go-users – the LG GD910 fails to tick all the boxes. Users cannot surf the internet or enjoy the host of applications that an iPhone user enjoys.
Both Orange and LG admit the high price means that the device will initially only appeal to dedicated technophiles.
Francois Mahieu, Orange's director of devices in Britain, said: "The LG Touchscreen Watchphone is one of several 'future phones' we're bringing to UK consumers this year. Being handmade, the device really is highly original and exclusively limited – so you'll be the envy of all your friends if you're fortunate enough to get your hands on one."
Comic book sleuth Dick Tracy first used his two-way watchphone back in the 1940s but it has taken a long time for manufacturers to fit all of a mobile phone's capability onto a wrist.
The device has a standby battery time of up to 12 days meaning you do not have to charge it too regularly just to tell the time.
Discuss this news here...