Kim Yu-na wins skating Grand Prix with James Bond medley (video)
South Korea's world champion Kim Yu-na Friday won the short program at the Grand Prix figure skating series opener of the 2009-2010 season in Paris.
The 19-year-old skater received 76.08 points at Trophee Eric Bompard, which fell just short of her personal best and world record of 76.12 set at the world championship in March.
Former world champion and Kim's rival Mao Asada of Japan received 58.96, ranking third after her compatriot Yukari Nagano with 59.64. Asada failed to complete her trademark triple axel at the beginning of her program.
Kim, who is seeking to win her first gold in the Vancouver Winter Olympics early next year, skated to a medley of James Bond movie themes in the short program with a flawless triple lutz-triple toe loop combination jump and textbook spirals and spins.
The performance used score from "Thunderball" and "Casino Royale" amongst other jazzy Bond theme motifs.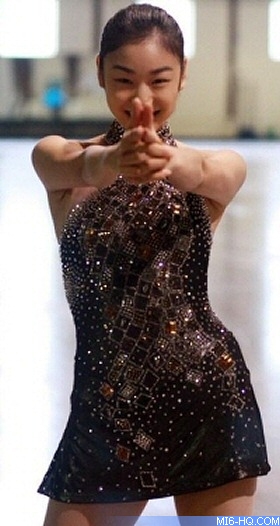 Wearing a halter dress with gold and silver sequins, she hit perfect landings on her jumps.
"This was the first time I was skating my program and ultimately everything went fine," Kim was quoted as saying by The Associated Press. "I was able to deliver a good performance to the audience and that's great."
Kim, who won in Paris three years ago, will perform to George Gershwin's "Piano Concerto in F Major" in Saturday's free skate.
Click here to watch her performance to the James Bond medley in HD (via Youtube)
Discuss this news here...