Daniel Craig as 007 features on Empire Magazine `icons of the decade` cover
James Bond has made it onto the cover of the December edition of British film magazine Empire. The magazine has 10 different special edition covers, marking the 10 biggest/most popular icons from the last decade.
The list of covers:
James Bond (Daniel Craig, Casino Royale & Quantum of Solace)
Jason Bourne (Matt Damon, The Bourne Trilogy)
Aragon (Vittigo Mortessen, Lord of the Rings Trilogy)
The Bride (Uma Thurman, Kill Bill Vol 1 & 2)
The Joker (Heath Ledger, The Dark Knight)
Maximus (Russell Crowe, Gladiator)
Harry Potter (Daniel Radcliffe, The Harry Potter Films)
Shaun (Simon Pegg, Shaun of the Dead)
Jack Sparrow (Johnny Depp, Pirates of the Caribbean Trilogy)
Wolverine (Hugh Jackman, The X-Men Trilogy and X-Men Origins: Wolverine)
Ron Burgandy (Will Ferrell, Anchorman: The Legend of Ron Burgandy)(Subscriber exclusive cover)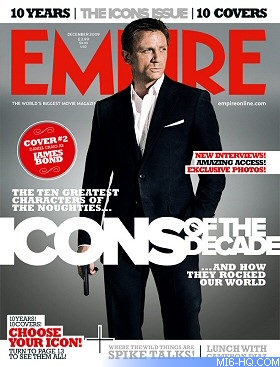 Thanks to `thegiantcookie` for the alert.
Discuss this news here...