'Quantum of Solace' Definitive Edition DVD coming this July
As director Marc Forster previously pointed out, the
release of "Quantum of Solace" on DVD and Blu-Ray
last year was just the first round and fans should expect a double-dip release later.
UPDATE: Fox updated their listing to redact the 'definitive edition' tag, and have confirmed this is the same Blu-Ray release as occurred in Europe and USA in 2009. This release was not originally made available in Australia. The 'definitive edition' of the movie is now expected around the theatrical release of Bond 23, according to sources
.
That time has now come with news that a 'Definitive Edition' two-disc DVD of Daniel Craig's second outing as James Bond is being scheduled for release on 28th July 2010 in Australia.
The new souped-up edition will also feature
lenticular packaging
.
As with the first release, Fox will distribute the updated title.
There is no word yet on what the special features will be, but fans should expect cast & crew commentaries (missing from the first release) as well as additional behind-the-scenes content.
Perhaps the most interesting possibility though, is the inclusion of the original ending of the film that Forster cut for theatrical release. In it, Bond is seen to confront Mr White and the shadowy Guy Haines at a Quantum-owned mansion near London.
An exclusive still from the cut scene can be found in MI6 Declassified magazine issue #4.
Stay tuned to MI6 for the latest news on this upcoming DVD release.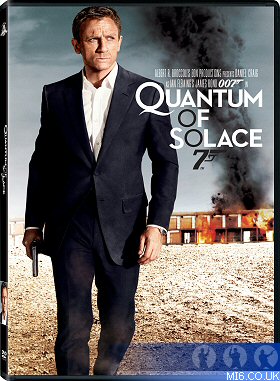 Above: Single-disc US edition, released in March 2009.
Discuss this news here...