'James Bond: The Union Trilogy' anthology released in hardback edition
In a twist on the usual publishing schedule, Raymond Benson's
anthology of three of his James Bond novels
has been released in hardback in the USA by Fall River Press. It was previously released in paperback by Pegasus Books in 2008.
The collection contains the 'Union Trilogy' of novels, comprising "High Time To Kill" (1999), "Doubleshot" (2000), and "Never Dream of Dying" (2001).
As a bonus, the complete uncut short story "Blast From The Past" is included. This story originally appeared in the January 1997 issue of Playboy in a truncated version. The full-length "director's cut" was published in Italian and in French, and will appear for the first time in English. A new introduction by the author will top off the omnibus.
The hardback edition runs to 864 pages and retails for just $9.99 (half the price of the original paperback).
Order Hardback - Barnes & Noble USA
Order Paperback - Amazon USA
Order Paperback- Amazon UK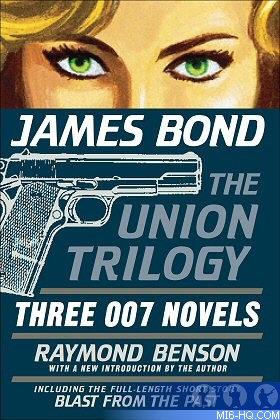 Thanks to `Jake` for the alert.
Discuss this news here...