CNN name top ten sexiest screen spies, a Bond girls ranks #1
Following the arrest of several Russian spies in the USA last week,
CNN
have compiled a list of the sexiest female spies to grace our screens.
We know it's serious news. But we'll admit: The recent arrest of 11 members of a so-called Russian espionage ring -- coupled with coverage of their assumed identities, their old-school tactics (invisible ink!), and even, in the case of "red-hot beauty" Anna Chapman, their coquettish Facebook pictures -- got us thinking about some of our favorite stylish spies from film and television. Here's a list of our top 10.
1. Anya Amasova in "The Spy Who Loved Me"
KGB agent Major Anya Amasova (code name: Triple X) had a love/hate relationship with her British counterpart, James Bond, in the 1977 film. Together, they traveled through Egypt and battled Jaws, a steel-toothed, 7-foot-tall assassin. But when the mission ended, Amasova -- played by American model Barbara Bach (who looked almost as good in her uniform as she did in a bathing suit) -- fell far short of her stated goal of killing James Bond; instead, she bedded him (in a submarine escape pod, no less).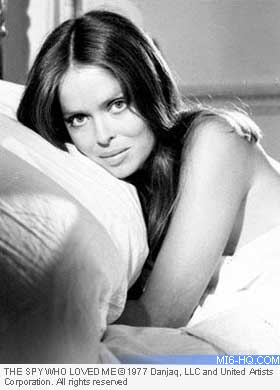 2. Emma Peel in "The Avengers"
British agent John Steed had several different partners over the course of the original 1960s series, but Emma Peel, played by Diana Rigg, was the best: A certified genius equally adept at fencing and martial arts, she fought mad scientists in mod black-and-white ensembles (many of which were designed by Pierre Cardin). Uma Thurman stepped into the iconic leather catsuit for a big-screen version in 1998.
3. Sydney Bristow in "Alias"
Jennifer Garner was nothing short of sensational as Sydney Bristow, a vulnerable-yet-deadly double-agent working with the CIA in the series that kicked off in 2001. More to the point, she looked sensational, masquerading as everything from club kid to hotel maid to geisha with stylish aplomb.
4. Nikita in "La Femme Nikita"
Anne Parillaud played the titular cocktail-dress-clad assassin in Luc Besson's original 1990 film: She went from teenage drug addict to literal femme fatale at the behest of her French intelligence agency handlers. Bridget Fonda starred in Point of No Return, the 1993 Hollywood remake, and Peta Wilson found fame in a late 1990s TV version. This fall, the character will be resurrected yet again, as Maggie Q takes on the title role in the CW series "Nikita."
5. Vanessa Kensington, Felicity Shagwell, and Foxxy Cleopatra in the "Austin Powers" movies.
They came from three different eras and worked for three different agencies, but Vanessa Kensington (Elizabeth Hurley), Felicity Shagwell (Heather Graham) and Foxxy Cleopatra (Beyoncé Knowles) had more in common than their line of work and their improbable attraction to the snaggle-toothed spy Austin Powers. They also shared an affinity for truly over-the-top ensembles, as seen above; we like Vanessa's futuristic silver shift best.
6. Agent 99 in "Get Smart"
Eminently capable and devastatingly gorgeous, Anne Hathaway's Agent 99 was the only CONTROL agent, aside from Maxwell Smart, whose identity hadn't been compromised at the start of the 2008 film. (The character was updated from the version Barbara Feldon played in the original 1960s show.) The series of ever-more-fabulous couture getups she donned over the course of her and Maxwell's mission wasn't exactly believable, but it sure was impressive.
7. Vesper Lynd in "Casino Royale"
Eva Green played Vesper Lynd, a British Treasury agent brought in to bankroll James Bond during a game of high stakes poker in this 2006 "reboot" of the series. But she certainly didn't look like a boring bureaucrat: Instead, the terminally conflicted Vesper stunned in a series of dramatic evening gowns, including this sophisticated open-backed number.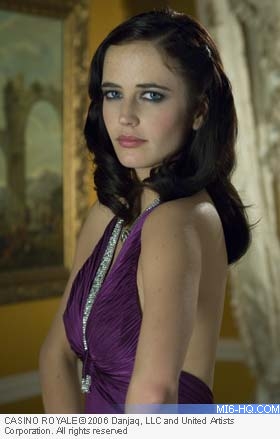 8. Claire Phelps in "Mission: Impossible"
The pillow-lipped French film star Emmanuelle Béart played a member of the fancifully named Impossible Missions Force in this 1996 big-screen adaptation of the classic TV show. Tom Cruise, as Ethan Hunt, may have suspected that his fellow agent's loyalties were divided, but given how beautiful she looked in her well-cut separates and chic little suits, we understand his inability to keep his guard up.
9. Helen Tasker in "True Lies"
Our favorite scene in 1995's "True Lies" comes when the formerly bored wife of secret agent Harry Tasker (Arnold Schwarzenegger) converts her slightly frumpy high-necked, long-sleeved dress into a short, sexy cocktail mini with little more than her bare hands. After Helen (Jamie Lee Curtis) slicks her hair back with a bit of water from a vase of flowers, she's ready for intrigue.
10. Claire Stenwick in "Duplicity"
Julia Roberts played a CIA-agent-turned-corporate-spy opposite Clive Owens in this 2009 romp. And, of course, she had all the usual accoutrements -- dark sunglasses, black trench, etc. -- but we loved this romantic V-necked printed dress she wore while shooting in Rome, Italy.
Bonus: Evelyn Salt in "Salt"
Okay, we haven't yet seen "Salt," in which Angelina Jolie stars as a CIA officer accused of being a double agent, and it's not in theaters until July 23rd. But if the action-packed trailer is any indication (and, judging by the numerous shots of Jolie looking chic on set), it looks to be a very stylish entry into the cannon.
Thanks to `timmer` for the alert.
Discuss this news here...