Charlie Higson tweets Young Bond meeting
Young Bond
author Charlie Higson
tweeted
today that he attended a meeting about the future of the literary series.
"Various meetings today to discuss the future of Young Bond, the Enemy, Monstroso & 1 with an academic to discuss the past -Randall & Hopkirk"
The activity could be great news for fans of the books as it indicates that ideas or projects are under consideration.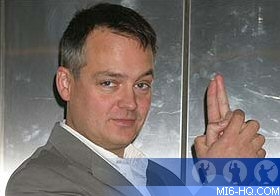 With the five book series being completed with "
By Royal Command
" in late 2008, Higson took a break from Bond to pen a young-readers horror trilogy for Puffin. He has said that options for continuing the story-arc of James Bond's path to adulthood could include his time at Fettes College, or his service during World War I.
To read an exclusive interview with Charlie Higson about the entire Young Bond series,
check out issue #6 of MI6 Declassified magazine
.
Discuss this news here...