Halle Berry proves she still has that Bond Girl beach body
No doubt about it, Halle Berry still has it.
The image of her stepping out the sea in the Bond movie Die Another Day is one of cinema's iconic images, reports the
Daily Mail
.
That was eight years ago. Since then, the 43-year-old actress, turns 44 next month), has become the mother of two-year-old Nahla Ariela.
But walking on the beach in Malibu last week with her daughter, it appeared as though time had stood still and she looked every bit the sex symbol.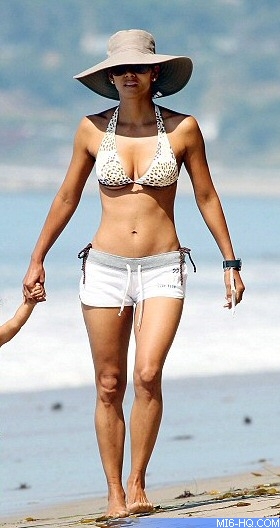 Back in 2002, was Bond Girl Giacinta 'Jinx' Johnson. In the film, she recreated a scene from Dr. No, where she emerged from the surf to be greeted by James Bond as actress Ursula Andress had 40 years earlier.
Up next, Halle is making her Broadway debut where she will play opposite of Samuel L. Jackson, whom she starred with in Jungle Fever.
The two will co-star in Katori Hall's play The Mountaintop. In the play, the Oscar winning actress will portray a hotel maid who delivers a meal to U.S. Civil Rights leader Martin Luther King Jr. on the night before he's assassinated.
Jackson will portray King, and the play is set in Room 306 at the Lorraine Motel in Memphis, Tennessee.
Discuss this news here...