'On Her Majesty's Secret Service' on the big screen in New Haven, CT, USA
Event:
On Her Majesty's Secret Service (1969)
Screenings
Location: Criterion Cinema, 86 Temple St. (at the corner of George St.), New Haven, CT 06510, USA
Date: August 13-15th 2010 (four screenings total)
Contact the theater for timings and ticket prices.
Call the box-office at (203) 498-2500.
Secret Agent James Bond must stop criminal mastermind, Ernst Stavro Blofeld's plans to blackmail the Western World with bacteriological sabotage of the world's food supply. His ransom, to be recognised as the rightful Count de Bleuchamp and amnesty for all his past crimes.
Starring: George Lazenby, Diana Rigg, Telly Savalas, Gabriele Ferzetti, Ilse Steppat, Angela Scoular, Lois Maxwell, Catherine Schell, George Baker, Bernard Lee, Desmond Llewelyn, Yuri Borionko, Joanna Lumley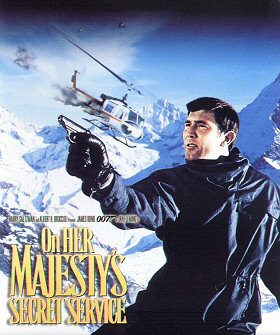 "On Her Majesty's Secret Service" - MI6 Dossier
Thanks to `Schaefer ` for the alert.
Discuss this news here...