Slow news prompts shameless 'Goodbye, Mr Bond' EW cover story
Entertainment Weekly probably had a James Bond cover story penciled in for summer 2010 on the assumption that filming on Bond 23 would be close to wrapping up by now.
As 007 is a sure-fire way to increase newsstand sales (as frequently documented by movie magazines such as Empire and Total Film), and not ones to let a good opportunity go to waste despite lack of Bond 23 production, EW found a way to use it anyway.
Touted "Goodbye, Mr. Bond: The inside story of how the 007 series is falling apart - and the battle to save it", the
EW cover story
quotes 'insiders' and
former
MGM sources that paint a bleak future for James Bond.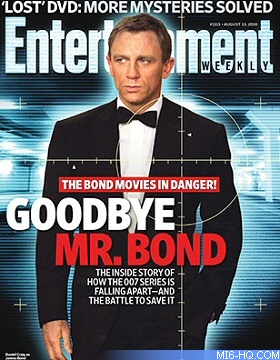 The article also attempts to suggest that Daniel Craig is filling his schedule with other films and potential franchises and says he "seems to have moved on".
In reference to a previous stall in the usual routine of Bond productions back from 1989-1995, "No franchise can afford to be away from screens for that long anymore," said a former MGM exec. "You lose too much momentum. Even for Bond, it could be deadly."
EON Productions don't seem to agree. The four year gap between "Die Another Day" and "Casino Royale" certainly didn't hurt the box-office earnings of the franchise, in fact the results proved the contrary. EW seems to have forgotten the cinematic history of the "Batman" and "Star Trek" franchises, too.
Perhaps the copy was written several weeks ago, before producer
Michael G. Wilson
and
Daniel Craig
both put
tabloid cries
of 007's death to bed and reaffirmed to fans that, although production was officially on hold due to MGM's financial situation, James Bond would return soon. Craig said only a few days ago that
Bond was his priority
and he wants to get back to filming as soon as possible. The
negotiations between studios
and EON Productions to secure Craig's availability for filming the first "Tattoo" movie are also suspiciously absent from the piece.
MI6 Rumour Rating
: Elliot Carver would be proud - making the best of a slow news week. Reheated tabloid headlines glossily repackaged with quotes from sources not connected to the current events, and subsequent (contrary) updates by EON and Daniel Craig arrogantly ignored. Skip it.
Discuss this news here...