Ian Fleming's 'Chitty Chitty Bang Bang' coming to Blu-Ray this November
In an early alert to retailers MGM (distributed by FOX) has announced plans to bring the classic 1968 film "Chitty Chitty Bang Bang" to Blu-ray Disc on November 2nd,reports
HighDefDiscNews
.
Tech specs-wise so far all we know is that this will be a "combo" release apparently in BOTH Blu-ray & DVD style packaging options with the Blu-ray Disc and the DVD included in each. Further tech specs and bonus materials have not yet been detailed, but stay tuned and we'll keep you updated once the studio makes an official press release. The title is
already available for PRE-ORDER over at Amazon with a $31.49 price tag
.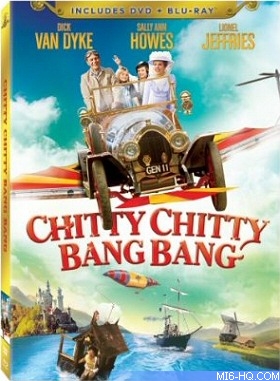 The 1968 film is Directed & Co-Written by Ken Hughes, with the additional screenplay Writing credit of Roald Dahl, and additional script dialogue written by Richard Maibaum. The film is based on the Ian Fleming novel "Chitty Chitty Bang Bang: The Magical Car". The film stars Dick Van Dyke, Sally Ann Howes, Lionel Jeffries, and also including Benny Hill. The film was also Co-Producer, along with Hughes, by Albert R. Broccoli, who also Co-Produced the "James Bond" film series (which was also founded by Fleming's novels). The film is also notorious for its musical soundtrack, with music composed by Irwin Kostal, in cooperation with musical numbers created by Dee Dee Wood and Marc Breaux.
Extras will include 5 documentaries and featurettes (Remembering Chitty Chitty Bang Bang with Dick Van Dyke, A Fantasmagorical Motorcar, The Ditchling Tinkerer, Dick Van Dyke Press Interview and The Potts Children), a photo gallery, a vintage advertising gallery with rare trailers and TV spots, rare Sherman Brothers song demos, a Music Machine, a Sing-a-long version of the film, the all new interactive Toot Sweet Symphony melody maker and Chitty Chitty's Bang Bang Driving Game. The film's audio has also been remixed in 7.1 DTS-HD.
Discuss this news here...