Rosamund Pike talks about her time on 'Die Another Day'
Following graduation at Oxford, Rosamund Pike was considering a job at Waterstone's when she landed the role of double agent Miranda Frost in Die Another Day, with Pierce Brosnan - reports the
Daily Mail
.
'I was so clueless that I turned up for the audition with one of my mother's concert dresses – which my grandmother had made and altered to fit me – an 80s taffeta confection with huge shoulder pads. The woman in the costume department took one look at it and tactfully said, "Gosh, that is a very beautiful dress, but I think we're going to go with something like this," and poured me into a white sheath.'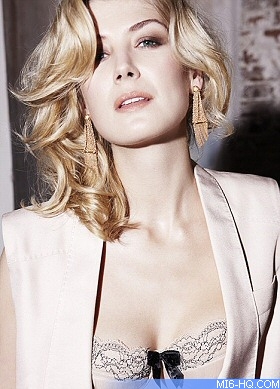 Her brush with Bond gave her a taste of the high life as she was sucked into the 007 machine – plenty more glamorous sheath dresses where that one came from, first-class air travel and international movie premieres. It might easily have gone to her head.
'Not at all,' she says, with a touching air of anguish. 'I was too busy agonising over whether I was good enough. I still know all the lines from my scene with Judi Dench who plays M, because for the next ten years I went over and over them in my head, wishing I'd delivered them differently.
Thanks to `danslittlefinger` for the alert.
Discuss this news here...