'From Russia With Love' poster pistol sells for £277,250
A pistol held by Sean Connery as James Bond in a poster to promote the 1963 film From Russia With Love has sold at auction for £277,250 ($436,828 USD).
The Walther air pistol fetched more than 10 times its estimate of £15,000-£20,000 at Christie's in London on Thursday.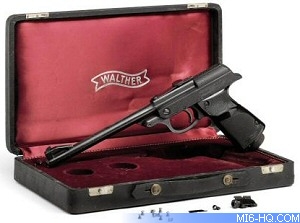 Another James Bond pistol, that appeared in 1974 film The Man With The Golden Gun, sold for £15,000.
Last month an American car enthusiast paid £2.6m to buy a 1964 Aston Martin DB5 - complete with revolving number plates, ejector seat and bullet-proof shield - featured in Bond films Goldfinger and Thunderball.
Meanwhile, a rare Darth Vader costume made for Star Wars film The Empire Strikes Back failed to sell. It had been expected to fetch up to £230,000.
The costume, which was being sold by a private collector from the US who acquired it in 2003, was believed to have been the first complete Vader costume to be offered at auction.
Among the other items sold at Thursday's Popular Culture: Film and Entertainment auction was a dinosaur model from the 1933 King Kong film that went for £25,000.
A metal box that contained the glowing red eye of the computer HAL from the film 2001: A Space Odyssey sold for £17,500
A pair of trunks worn by Christopher Reeve in the 1984 film Superman III failed to sell.
Discuss this news here...