'The World Is Not Enough' landmark to be pulled down in Wiltshire
One of the town's most famous buildings is being dismantled after the company left its iconic building. Motorola has moved from its Thamesdown Drive premises to its new home at Kembrey Park.
Earlier in the year the company confirmed it would be staying in the town with its 500-strong workforce and there would be no redundancies following the sale of its building to pharmaceutical firm Vygon UK Limited.
Work has now begun on dismantling the famous steel tube, which featured in the Bond film The World is Not Enough.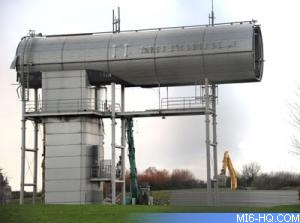 In March 1999 former Bond Pierce Brosnan visited the town as Motorola took on the role of a Turkish oil refinery for the film.
Dame Judi Dench co-starred and some hi-tech computer wizardry was needed to convince viewers that Swindon on a snowy November day was actually sunny Turkey.
Motorola held an open day in September, attended by 1,000 people, to mark its move to Kembrey Park.
Motorola's current 500 staff is down from the 1,800 it had when the factory was opened 12 years ago by the Queen. There is no longer any manufacturing in Swindon, but research and development plus testing continues at Kembrey Park.
The move to the new building marked the end of an era, but something of a return home because Motorola operated from the same building on the site almost 10 years ago.
Vygon UK is now in the process of settling into the Thamesdown Drive building after moving to the town from Cirencester.
Vygon is part of an international company specialising in medical apparatus and equipment, which has grown significantly over the last 30 years.
It had submitted a planning application to Swindon Council for part demolition and extension of the existing building to transform it into a distribution workplace.
The business will be fully operational from the new site next year.
Discuss this news here...