Aston Martin Cygnet pricing set at 30,000 Euros
When the British luxury carmaker Aston Martin launches the Cygnet in the U.K. this year, it may go down in history as the the day Aston Martin lost its mojo - reports
Luxist
.
After all, the brand perhaps most associated with James Bond is putting its brand on a "micro car," a Toyota iQ really, for purposes of giving Aston a way to comply with European Union's 2012 fleet emissions regulations, and British car buyers a way to drive an Aston more easily in congested cities where car owners are being charged hefty fees to drive anything but mini cars, electric vehicles and the like.
The Cygnet produces 98 horsepower from a 1.3L straight-4 engine. Fuel economy is 58.9 mpg (U.S.)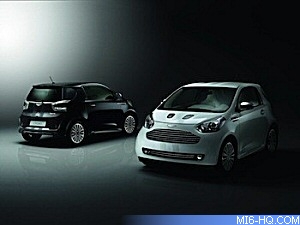 The starting price of the Cygnet, finally announced by the company is £30,995. Aston is offering two special-edition versions of the Cygnet to mark the car's launch. The first, Cygnet Launch Edition White, is bathed in Snow White paint. The exterior gets a lot of chrome bright work and custom wheels, while the interior gets pearl-white leather and satin chrome accents.
Aston says the Cygnets each get 100 hours of hand-tooling for the interiors to make the Toyota feel like a real Aston.
The second edition is Cygnet Launch Edition Black. The "negative" version of the Snow White is dipped in Magic Black paint that has embedded in the paint...shades of green. Matte-black louvers and chrome accents dominate the rest of the exterior, while the cabin is treated to diamond-pattern black leather.
Discuss this news here...