Sharon Stone throws her hat in to the Bond 23 ring
Sharon Stone has stated her desire to play a Bond girl - but on the bad side.
"I would love to play the villain in a James Bond movie, better if with Daniel Craig", she told reporters this week. The 23rd James Bond film (AKA 'Bond 23') is due to start filming late this year, for release on November 9th, 2012.
The 52 year-old actress, famous for her man-eating performance in "Basic Instinct", will next be seen in "Waco" and "The Burma Conspiracy" later this year.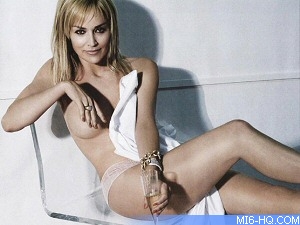 Sharon Stone was previously considered for a leading Bond girl role by MGM during the scripting stage of "The World Is Not Enough" in 1999. Stone would have played Elektra as an American, but worries that her casting would easily signal her character as the film's villain lead to Sophie Marceau winning the role, and the nationalities of Elektra and Dr Christmas Jones reversing.
Discuss this news here...