MI6 Confidential magazine now available to order via Amazon
The latest issue of the
James Bond magazine MI6 Confidential
is now available to order with an Amazon.com account.
For readers based in the USA, you can now order MI6 Confidential with your existing Amazon account. Simply visit the
magazine website
and click the 'Checkout with Amazon' button. You can complete purchases without having to re-enter shipping or payment information - just use what you already have set up.
MI6 Confidential is also available to order via PayPal for readers anywhere in the world.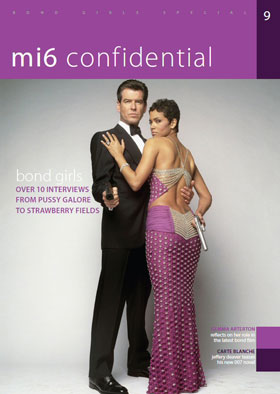 Issue #9 - Bond Girls Special
From Pussy Galore to Strawberry Fields, MI6 Confidential delves into the rich legacy of the Bond Girls, with over a dozen exclusive interviews, rare photography and a raft of features dedicated to the ladies of the James Bond films.
In addition to all the glamorous girls: author Jeffery Deaver reports for duty in Dubai and lifts the lid on the upcoming 007 novel 'Carte Blanche', Jaws' original steel dentistry is tracked down, and MI6 grills the designers of 'Blood Stone'. With rarely seen photography and anecdotes from cast and crew, MI6 Confidential #9 is not to be missed!
* Strawberry Fields Forever - Gemma Arterton on her role in Quantum of Solace
* Under My Skin - Shirley Eaton talks about her gilded days with 007
* Eva Green and Caterina Murino discuss playing the odds with a new James Bond
* Honor Blackman on the titillating character of Pussy Galore
* Lynn Holly-Johnson explains why she never got her ice cream
* The Knives Are Out - Die Another Day's leading ladies on crossing swords on screen
* Caroline Bliss recalls stepping into Miss Moneypenny's shoes
* Author Jeffery Deaver speaks exclusively to MI6 about Carte Blanche
Discuss this news here...