Factory Entertainment preview SPECTRE Ring prop replica
Factory Entertainment is proud to present a sneak preview of its forthcoming SPECTRE Ring prop replica. First seen in the 1963 James Bond film 'From Russia With Love', the ring with its malevolent 4-tentacled octopus design was the trademark of the secretive SPECTRE organization and its shadowy head, 'Number 1'.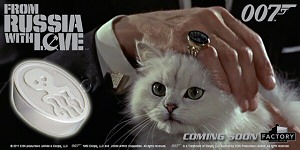 The highly accurate replica, coming in late summer 2011, will be a numbered limited edition. Each replica will feature a genuine semi- precious onyx stone in an 18kt gold plated setting. Shown here is the 'master' pattern used to engrave the distinctive motif. More news on this item coming soon.
Discuss this news here...