USA TV - 1954 television adaptation 'Casino Royale' on EPIX, Sunday afternoon
Movie:
Casino Royale (1954)
Channel: EPIX3 (Dish Network channel 292)
Date: Sunday 8th May 2011
Time: 15:30 EST
The very first screen appearance of James Bond 007, made in 1954 for US TV channel CBS. Bond's task is to destroy the evil Le Chiffre, and his plan is to force him to lose a large sum of money at the gambling tables of Casino Royale.
Starring: Barry Nelson, Peter Lorre and Linda Christian.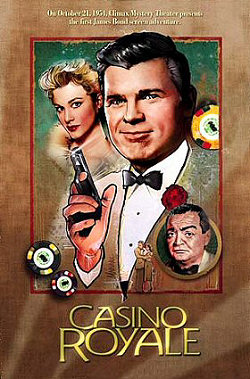 "Casino Royale" (1954) - MI6 Dossier
Thanks to `Ron` for the alert.
Discuss this news here...