David Arnold receives Richard Kirk Award at BMI awards
Leading U.S. music rights organization Broadcast Music, Inc. (BMI) staged its annual Film/TV Awards tonight at the Beverly Wilshire Hotel in Los Angeles. During the invitation-only gala, BMI celebrated the composers of music featured in the past year's top-grossing films, top-rated prime-time network television series, and highest-ranking cable network programs. Hosted by BMI President & CEO Del Bryant and Doreen Ringer Ross, Vice President, Film/TV Relations, the ceremony also featured the presentation of the Richard Kirk Award to David Arnold.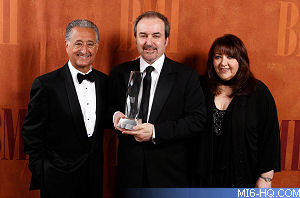 Above: Richard Kirk, David Arnold Doreen Ringer Ross
.
The Richard Kirk Award is bestowed on composers who have made significant contributions to the realm of film and television music. As the 2011 honoree, David Arnold joins an elite list that includes Rachel Portman, Alan Silvestri, David Newman, Thomas Newman, Christopher Young, George S. Clinton, Harry Gregson-Williams, Jerry Goldsmith, Michael Kamen, Mark Mothersbaugh, Danny Elfman, Alan Menken, Mike Post, Lalo Schifrin, John Barry, Charles Fox, and John Williams.
David Arnold has composed scores for a diverse collection of films including James Bond installments Tomorrow Never Dies, The World is Not Enough, Die Another Day, Grammy- and BAFTA-nominated Casino Royale, and Quantum of Solace, the Grammy-winning Independence Day, the 2000 remake of Shaft, Stargate, Zoolander, Godzilla, The Young Americans, 2 Fast 2 Furious, Changing Lanes, The Chronicles of Narnia: The Voyage of the Dawn Treader, and so many more, as well as BBC series Little Britain and Sherlock, and British mockumentary series Come Fly With Me.
For a complete list of 2011 BMI Film/TV Awards winners, visit www.bmi.com
Discuss this news here...