Pictures from the set of 'Tinker, Tailor, Soldier, Spy' now online
Director Tomas Alfredson's followup to "Let The Right One In" finds him working with a top shelf cast - Tom Hardy, Gary Oldman, Colin Firth, Benedict Cumberbatch, Ciaran Hinds, Mark Strong, Svetlana Khodchenko, Toby Jones, John Hurt, Stephen Graham and Kathy Burke - in an adaptation of John Le Carre's classic spy thriller that follows a British Intelligence operative whose task is to delve into the world of Cold War espionage and root out a Soviet mole in the Circus, the highest echelon in the British Intelligence Services.
A couple new pictures from the film have surfaced, giving us a closer look at Hardy and Firth in the film -- reports
The Playlist
. First up is more official look at Hardy following the set photo that surfaced late last year. The actor plays 'Tricky' Ricky Tarr, a British operative acquaintance of protagonist George Smiley, a "breathtakingly ordinary, anti-James Bond"-type character who will be played by Oldman. We also get our first look at Firth in the film was well as a larger look at the previously released pic of Oldman.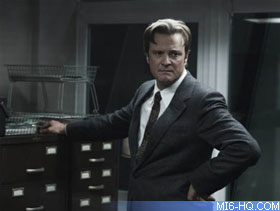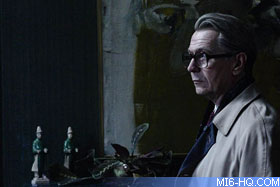 Discuss this news here...